Customized Barbie Ornament, Custom Family Ornaments. Celebrate this festive season with our exclusive Barbie Christmas Ornament, a delightful addition to any family Christmas tree. This ornament captures the essence of holiday joy, blending traditional Christmas charm with the timeless elegance of Barbie.
Crafted with meticulous attention to detail, our Barbie Christmas Ornament is more than just a decoration; it's a cherished keepsake that embodies the spirit of Christmas. Whether you're looking to add a touch of whimsy to your family Christmas ornaments collection or searching for that perfect gift for friends, this ornament is sure to impress.
The design features Barbie in her holiday best, adorned in a shimmering gown that sparkles against the glow of Christmas lights. Her pose is graceful, capturing the elegance and joy of the season. This ornament is a fantastic way to bring a bit of glamour to your holiday decor, making it a standout among friends' Christmas ornaments.
Customized Barbie Ornament, Custom Family Ornaments
What sets our Barbie Christmas Ornament apart is the option for personalization. We understand that every family has its unique story, which is why we offer personalized family ornaments. You can have your family's name or a special message inscribed on the ornament, making it a truly personal and memorable addition to your Christmas tree.
Our Barbie Christmas Ornament is made from high-quality materials, ensuring it lasts for many Christmases to come. It's a wonderful way to start or continue a family tradition, passing down the joy of Barbie through generations.
As you gather around the tree with your loved ones, let our Barbie Christmas Ornament be a symbol of the love, friendship, and cherished memories that define the holiday season. Order now and add a touch of elegance and personalization to your Christmas celebrations.
Don't let the chance go away! Come and grab gifts for yourself or your loved one. 100% satisfaction guaranteed. You can visit PODHala store to browse our categories and collections if you want another color or a different style. These items would make wonderful gifts for friends and family members. All of these products are market best-sellers, so you can be certain that they will be excellent for you.
Product Detail:
Christmas ornaments are great for decorating your home. Christmas ornaments can add a beautiful flair to your house, especially if you use them on Christmas tree ornaments! Have fun choosing the perfect Christmas ornament for yourself and your family.
Ceramic Ornaments:
Constructed from light ceramic material, this ornament ensures no branches bend under its weight.
It boasts the capability to vividly reproduce any full-color design, artwork, or logo, ensuring the clarity and vibrancy of your chosen image.
The dual-sided printing feature doubles the visual appeal, allowing unique designs on each side.
Choose from four distinct shapes to best fit your style: Circle, Oval, Heart, and Star. Each ornament comes pre-drilled with a hole and is accompanied by a gold-toned string for easy hanging.
These ceramic ornaments are not only stylish but durable too, standing up to curious children and pets.
They're more than just decorations; they're potential family heirlooms, to be cherished and used year after year.
Dimensions (length * width) for each shape are as follows:
Circle: 3.3 * 3.3 inches
Star: 3.6 * 3.5 inches
Heart: 3.45 * 3.2 inches
Oval: 2.75 * 3.7 inches
Proudly printed within the United States
Plastic Covering Wooden Ornaments:
Constructed from robust MDF (Medium-density fibreboard), our ornament is free from toxins and odors and boasts a lustrous plastic finish, ensuring your designs stand the test of time.
Experience vibrant imaging from corner to corner, thanks to our Sublimation printing method.
Printed in ONE SIDE.
Choose from 4 distinct shapes: Circle, Oval, Heart, or Star.
Each ornament is accompanied by a gleaming gold cord for effortless hanging.
Sturdy, long-lasting, and visually appealing, this print-on-demand Wood ornament makes the perfect gift & whether it's a birthday, housewarming, holiday, Mother's Day, Father's Day, or Christmas & for your loved ones.
Product Size: Stands at 2.75″ in height and has a thickness of 1/8″.
All products are proudly printed in the USA.
Aluminum Ornaments:
Crafted from Aluminum: Guarantees durability for many festive seasons to come. Enjoy the benefits of zero rusting and say goodbye to unpleasant copper scents on your fingers.
Vivid Full-Color Imprint: Showcase your favorite artwork, cherished photos, or unique logos. Our advanced printing offers bright and true-to-life colors, ensuring a perfect match to your designs.
Printed in ONE SIDE
Available in 3 Shapes: Benelux
Ready-to-Hang: Each ornament comes with a pre-drilled hole and is adorned with a charming red ribbon, perfect for instant hanging.
Add a Touch of Class: The printed side captivates with its vivid imagery, while the brushed aluminum reverse side adds a refined elegance.
Dimensions & Origins:
Proudly Printed in the USA: Our products are crafted with care, right here in the United States.
Shipping for Customized Barbie Ornament, Custom Family Ornaments:
Processing Time: 2-5 working days average
Shipping time (US):4-8 business days
Shipping time (WW):15-25 business days
Feedback for Customized Barbie Ornament, Custom Family Ornaments:
We understand that our success depends on the satisfaction of our customers. That's why we try our best to ensure every customer is delighted.
Thank you for shopping with us. If you are satisfied with your purchase, kindly think about posting a positive review for us. It helps us to continue providing excellent products and helps potential buyers to make confident decisions.
We hope you are happy with your purchase. However, if you are not completely satisfied with your purchase for any reason, please get in touch with us to resolve the problem.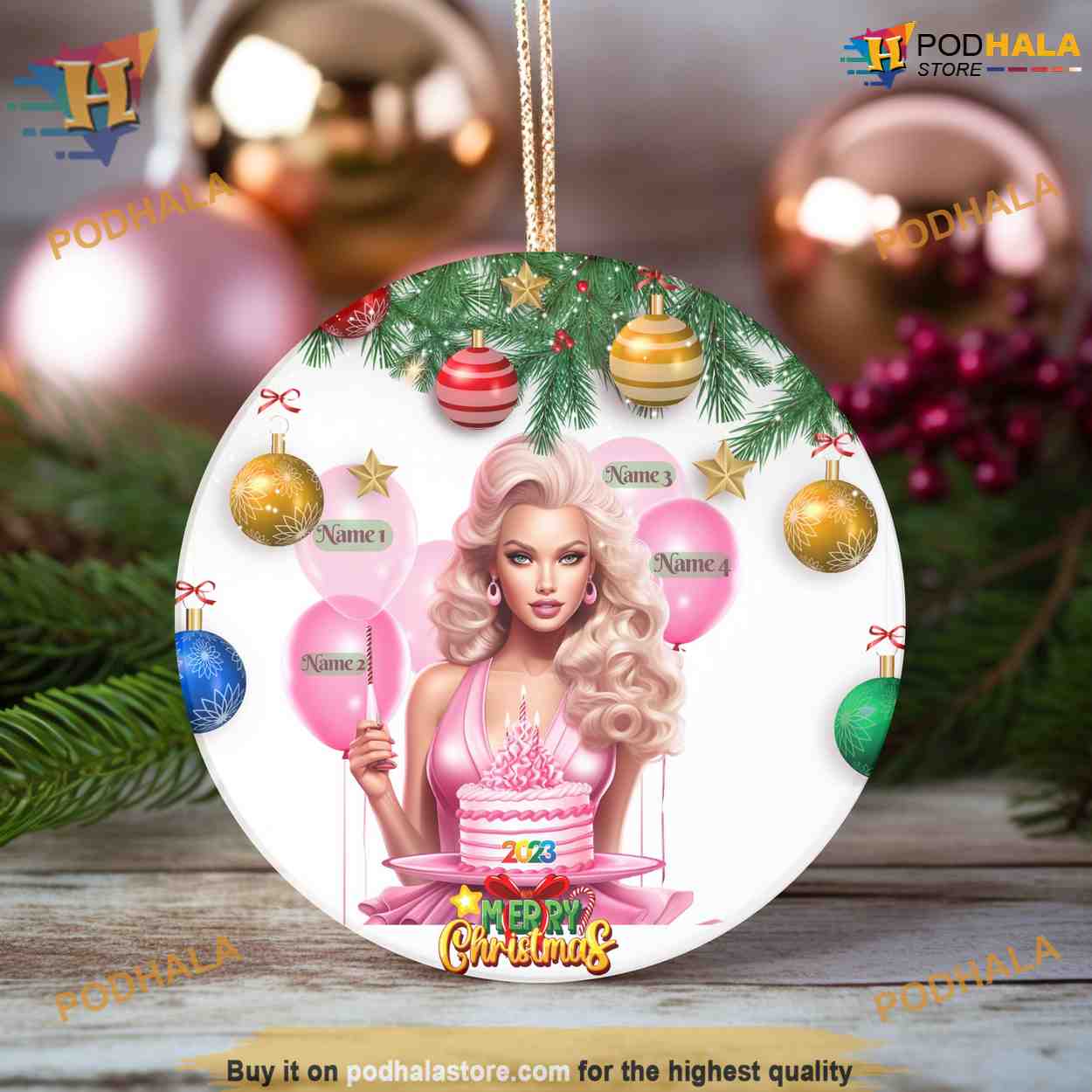 ,